Weather Summary for Friday 12.15.17:  Cloudy with Snowfall starting as Snow/Snow Grain mix near noon, then all Snow from early afternoon thru 4:45 pm. New Snow Accumulation of 1.4″. The High Temperature reached 24.1 °F at 11:01 am.  Humidity High: 93%…. Humidity Low: 63%…..Dew Pt. High: 20.1°F…..Dew Pt. Low:  9.3°F…..Solar Radiation High:  73  W/m2… UV Index High:  0.00 …. Winds:  SSE becoming WSW and Variable at times…. Peak Wind Gust: SSE @ 6 mph… Overnight:  Variable Cloudiness early then gradual Clearing…Low temp:  16.1°F at 12:05 am……Winds:   WSW….Calm to 3 mph… Precip since 12 am:  0.00″.
What I'm listening to while blogging:  Ding! Dong! Merrily On High by Choir of King's College, Cambridge
https://www.youtube.com/watch?v=6J_2tKCwu7Q
Precipitation Totals for 2017        YTD                   December
                                      CoCoRaHS:        41.57″                  0.72″               
                                      Davis  Rain:        40.86″                 0.81"
                                      Snow total:         6.50"                    6.50″
Current Weather Conditions: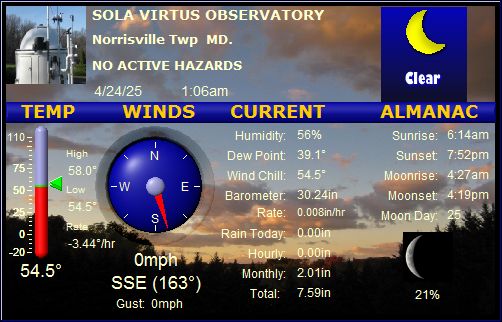 Local Forecasts For Norrisville, MD:
NWS:  
Today:    Partly sunny, with a high near 39. Southwest wind 10 to 15 mph, with gusts as high as 21 mph.
Tonight:  Partly cloudy, with a low around 26. West wind 5 to 9 mph becoming light northwest after midnight.
SVObservatory WXSIM:
Today:   Mix  of Sun and Clouds. High near 42°F… Winds:  WSW and Variable at times …Calm to 7 mph increasing to 6 to 14 mph with Gusts to 20 mph possible.
Tonight:    Mostly Clear to Partly Cloudy….Low near 25°F……Winds: WNW and Variable at times ….Calm to 7 mph.
Hair Frizz Factor:    Frizz Watch
Pollen & Allergy:    Moderate…Molds…Ragweed
                Solar X-Ray Status:  

Geomagnetic Field Status:  
Astronomy Watch:  December 18-24, 2017
New Moon starts the longest Lunar Month of 21st Century….Winter Solstice….Ursid Meteors
A new moon nearly between the Earth and sun for this month happens December 18th. Astronomers mark the beginning of each lunar month, a period of approximately 29.5 days, at the new moon. Lunar months have slightly varying lengths, but this particular new moon will start the longest lunar month of the 21st century (2001 to 2100).
A lunar month (also called a lunation or synodic month) is defined as the period of time between successive new moons. Although the mean length of the lunar month lasts 29.53059 days (29d 12h 44m 03s), this upcoming lunar month will be more than 7 hours longer than the mean, having a duration of 29 days 19 hours 47 minutes. The new moon on December 18, 2017, and the following new moon on January 17, 2018, coincide quite closely with lunar apogee – the moon's most distant point from Earth in its monthly orbit.
December 2017 new moon: Dec 18 at 6:30 UTC
December 2017 lunar apogee: Dec 19 at 1:27 UTC

The Sun arrives at its Southernmost point known by tradition as the start of the Winter season or the Winter Solstice at 16:28 UTC on December 21.  In North America, the solstice falls in the morning hours of December 21 (11:28 a.m. EST, 10:28 a.m. CST, 9:28 a.m. MST, 8:28 a.m. PST, 7:28 a.m. Alaskan Time and 6:28 a.m. Hawaiian Time). 

The Geminid Meteors have peaked and the annual Ursid Meteor shower is under way. The Ursids normally peak near the December solstice, so look for some possible activity over the next several nights with December 21-22 or December 22-24 to be peak nights.  The Ursid is not a robust producer of Meteors, so expect only 3-5 per hour. The Ursid Meteor Shower tends to favor the northerly latitudes in the Northern Hemisphere.
Observatory Cam: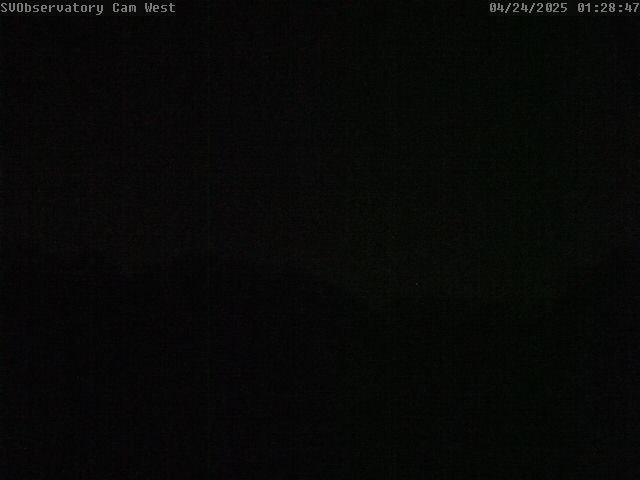 More Observatory Webcams & AllSkyCam here…
More data at sola-virtus-observatory.org
Weather Underground Station Data KMDWHITE7
Weather Underground has now announced they are keeping the Web Cam feature.  Our protests did not fall on deaf ears and PWS owner unity changed an otherwise poor decision….Stay tuned, things may change again…
"We heard from many of you about how much you like and rely on our webcam product. So we will not discontinue the product as we stated in November. We will continue to allow users to add webcams to the Weather Underground network and everyone can view images from connected webcams.
Thank you for your passionate support and apologies for any inconvenience we caused."