Weather Summary for Wednesday 12.06.17:   Mostly to Partly Cloudy. The High Temperature reached 39.7°F at 1:27 pm.  Humidity High: 98%…. Humidity Low: 39%…..Dew Pt. High: 52.4°F…..Dew Pt. Low:  15.5°F…..Solar Radiation High:  390  W/m2… UV Index High:  1.20 …. Winds:  WNW and Variable at times…. Peak Wind Gust: WNW @ 15 mph… Overnight:  Mostly Clear…Frost…Low temp:  30°F at 6:15 am……Winds:  SW becoming WNW….Calm to 2 mph… Rain since 12 am:  0.00″.
What I'm listening to while blogging:  Drivin' Wheel  by  Foghat
https://www.youtube.com/watch?v=5-pIaz5Dqo8
Precipitation Totals for 2017        YTD                   December
                                      CoCoRaHS:        41.10″                  0.25″               
                                      Davis  Rain:        40.30″                 0.25"
Current Weather Conditions: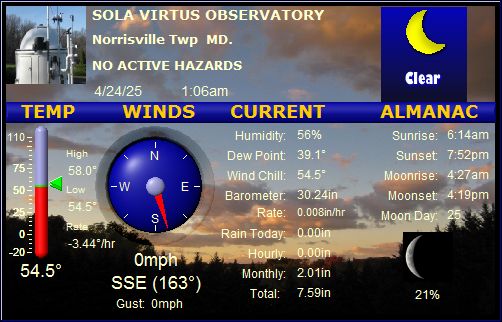 Local Forecasts For Norrisville, MD:
NWS:  
Today:    Mostly sunny, with a high near 43. West wind 6 to 14 mph, with gusts as high as 21 mph.
Tonight:  Mostly cloudy, with a low around 27. West wind 6 to 8 mph
SVObservatory WXSIM:
Today:    Mostly Clear to Partly Cloudy.  High around 44°F….Winds: WNW and Variable at times …Calm becoming 2 to 12 mph with Gusts to 20 mph possible.
Tonight:    Partly Cloudy early becoming Cloudy …Low near 29°F……Winds: NW and Variable at ….Calm to 3 mph.
Hair Frizz Factor:    Frizz Watch
Pollen & Allergy:    Moderate…Molds…Ragweed
                Solar X-Ray Status:  

Geomagnetic Field Status:  
Astronomy Watch:  December 8, 2017
The Moon and Regulus…
Gaze eastward late evening, and you should see the moon and the star Regulus near the horizon.  If you're an early riser and turn in before the moon and Regulus come up at late evening, arise before dawn to see the couple.
Look first for the waning gibbous moon. The nearby bright star will be Regulus, the brightest star in the constellation Leo the Lion. 
Observatory Cam: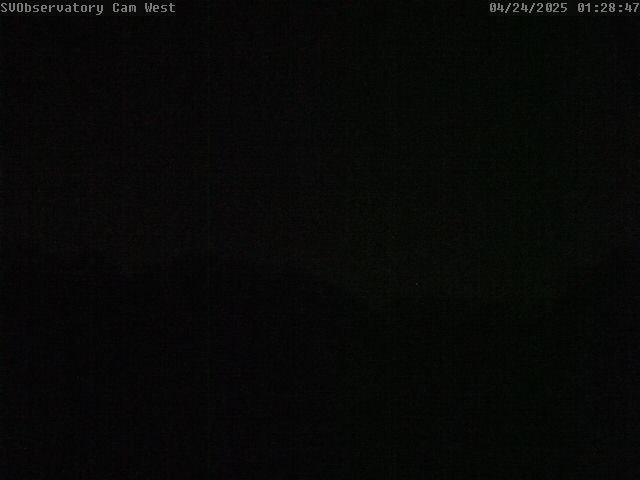 More Observatory Webcams & AllSkyCam here…
More data at sola-virtus-observatory.org
Weather Underground Station Data KMDWHITE7
Weather Underground has made it official.."On December 15, 2017, we'll remove the webcam feeds from our website, mobile apps, and within our API – meaning uploading and accessing webcam footage will no longer be available"….and a quote from Jeff Masters at WU…"Due to the difficulty we've had maintaining this feature, its negative ROI, and the downsizing of our staff, it has been decided to drop the webcam feature from WU on December 15. "
How about our Return on Investment…It's obvious, all they want is our free weather data which they can sell to third parties. They are systematically removing everything else, and what  is left is a poor layout that has constant glitches.  
For the many followers who visit my WU site to see the webcams, click on webcams in the blog menu on the home page or go to any of the links listed above weather underground to see the cams and current weather station data data.
Cheers'
Josh