Weather Summary for Wednesday 11.29.17:   Clear to Mostly Clear becoming Partly Cloud late afternoon. Breezy and mild. The High Temperature reached 62.6°F at 1:15 pm.  Humidity High: 87%…. Humidity Low: 36%…..Dew Pt. High: 41.2°F…..Dew Pt. Low:  22°F…..Solar Radiation High:  488  W/m2… UV Index High:  1.50 …. Winds:  NNW and Variable at times…. Peak Wind Gust: N @ 19 mph… Overnight:  Clear to Mostly Clear becoming Cloudy after midnight…Low temp:  33.9°F at 5:56 am…….Winds: NNW becoming NNE and Variable at times …Calm to 3 mph …..Rain since 12 am:  0.00″.
What I'm listening to while blogging:  Sweet Home Chicago by  Buddy Guy
https://www.youtube.com/watch?v=N6O9DaIGy9M
Precipitation Totals for 2017        YTD                   November
                                      CoCoRaHS:       40.85″                 1.53″               
                                      Davis  Rain:        40.02″                 1.60″
Current Weather Conditions: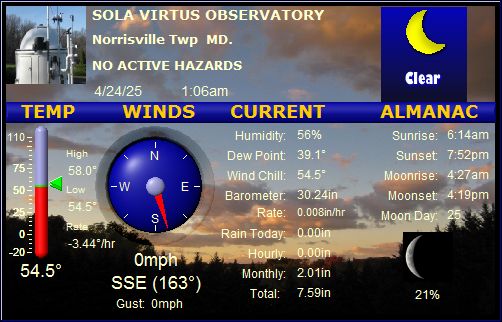 Local Forecasts For Norrisville, MD:
NWS:  
Today:    Cloudy, then gradually becoming mostly sunny, with a high near 53. East wind 7 to 9 mph becoming south in the afternoon.
Tonight:  A chance of showers before 1am. Cloudy, then gradually becoming partly cloudy, with a low around 38. South wind 7 to 10 mph becoming northwest after midnight. Chance of precipitation is 50%.
SVObservatory WXSIM:
Today:    Cloudy early then a Mix of Sun and Clouds.  High around 53°F….Winds: NE becoming SSE and Variable at times …Calm to 10 mph.
Tonight:    Variable Cloudiness with a 55% chance of Light Showers…Low near 39°F……Winds:  SSW and Variable at times….Calm to 6 mph.
Hair Frizz Factor:    Frizz Watch
Pollen & Allergy:    Moderate…Molds…Ragweed
                Solar X-Ray Status:  

Geomagnetic Field Status:  
Astronomy Watch:  December 1-4, 2017
The Moon and Aldebaran….Full Supermoon on December 3rd…
An almost full waxing gibbous moon shines close to all night long.  The moon's glare may make it difficult to spot the constellation Taurus and its two major residents, Aldebaran and the Pleiades Cluster.
The moon and the constellation Taurus the Bull travel across the sky from east to west. The moon and Taurus appear in the eastern sky early evening. All three will climb upward during the evening hours reaching their highest point near midnight. Then the moon and Taurus will  slide down the sky to sit low in the west before sunrise.
The full moon on December 3, will be a supermoon. In the Northern Hemisphere it may be known as a Moon Before the Yule, Cold Moon or Long Night Moon. It's also the only full supermoon for 2017.  It comes close enough to Earth (222,443 miles or 357,987 km) to be considered a supermoon.  Any new or full moon approaching 362,000 km of Earth in 2017 counts as a supermoon. This month, the full moon and lunar perigee – the moon's closest point to Earth in its orbit – occurs about one day apart. The full moon takes place on December 3, at 15:47 Universal Time (UTC), and lunar perigee takes place on December 4 at 8:42 UTC.
Observatory Cam: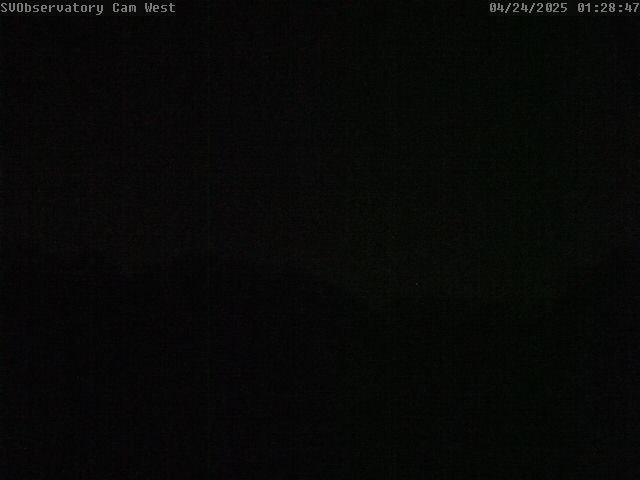 More Observatory Webcams & AllSkyCam here…
More data at sola-virtus-observatory.org
Weather Underground Station Data KMDWHITE7
Weather Underground has made it official.."On December 15, 2017, we'll remove the webcam feeds from our website, mobile apps, and within our API – meaning uploading and accessing webcam footage will no longer be available"….and a quote from Jeff Masters at WU…"Due to the difficulty we've had maintaining this feature, its negative ROI, and the downsizing of our staff, it has been decided to drop the webcam feature from WU on December 15. "
How about our Return on Investment…It's obvious, all they want is our free weather data which they can sell to third parties. They are systematically removing everything else, and what  is left is a poor layout that has constant glitches.  
For the many followers who visit my WU site to see the webcams, click on webcams in the blog menu on the home page or go to any of the links listed above weather underground to see the cams and current weather station data data.
Cheers'
Josh